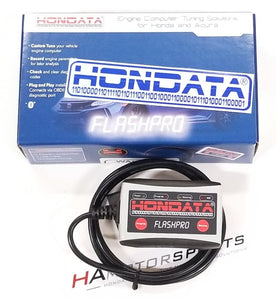 WARNING! THIS PRODUCT IS FOR OFF-ROAD MOTORSPORT/COMPETITION RACING USE ONLY, NEVER TO BE USED ON ANY POLLUTION CONTROLLED MOTOR VEHICLE.  TO PURCHASE, YOU MUST SET UP AN ACCOUNT ON OUR ONLINE STORE AND COMPLETE THE RACE-USE FORM:

The FlashPro allows full user tuning and datalogging for your 2016+ US Civic 1.5 Turbo. It includes Windows based software called FlashProManager. The FlashPro connects from your laptop's USB port to your vehicles OBD2 diagnostic port to provide live tuning with a variety of calibrations, extensive real time and stored datalogging capabilities. Warning: Within the USA this product is legal only for racing vehicles which may never be used upon a public highway.
Features:
Programmable ECU interface.
Connects via OBDII diagnostic port.
USB 2.0 connection
Works with Laptop or Desktop
No ECU modification necessary.
Live Tuning
20 hours on board datalogging memory.
Security Password.
FlashProManager Windows software.
Check and clear diagnostic codes.
Custom laptop gauges.
Dual calibration storage - upload from one of two calibrations stored in the FlashPro
The Hondata FlashPro is a hardware and software combination that connects from your laptop's USB port to your Civic's diagnostic port. It enables you to tune your engine computer for:
Intakes
Exhausts
Higher octane fuel
Higher Boost levels
2016+ Civic Turbo Software features:
Speed limiter removed.
Ignition, fuel, idle speed table editing.
Rev hang reduced for MT
Ignition and Fuel temperature compensation tables.
Rev and launch limiters.
AFM calibration table.
Idle Speed adjustment
Individual cylinder fuel & ignition trim.
Map tracing & lambda overlay.
Advanced Graphing.
30 + advanced datalogging channels
The FlashPro Manager software comes with several built in calibrations for different intakes and boost levels. You will find a base maps that is a great fit for your car. The FlashPro has the best datalogging capability and support in the industry. There is simply no better way to learn how your engine runs and responds than by connecting a FlashPro and datalogging. See for yourself. The Hondata FlashPro is a product that delivers all the features you need, now, fully working, that will grow with you as you upgrade your engine. With live tuning capabilities, your tuner can now tune your car faster and more accurately. The FlashPro is designed, manufactured and assembled in the USA. As a result of local assembly, extensive testing before shipping and our stringent quality control, the FlashPro is incredibly reliable. Listed below are dyno plots of several of the many base maps provided with the FlashPro. How the FlashPro will perform on a stock Civic 1.5 Turbo? The answer is superbly! With a 100% stock 1.5 Civic Turbo you will benefit from:
Improved turbo spool
Raised boost limits
Better throttle response
Better mid range power and torque
Removed speed limit
No change in part throttle fuel economy
World Class Datalogging - which will teach you a lot about your engine.
Base maps: These are examples of the base maps provided with the FlashPro. The lower curves are done with the specified 87 octane on a stock 1.5 turbo Civic. The higher power curves are with California 91 octane and the FlashPro base maps. With higher octane fuel and more boost, extra power and torque is easily achived. Maps for cold air and short ram intakes are also included. Civic CVT high octane plus 3 psi more boost. +15 HP and 14 lb-ft torque
Civic CVT high octane plus 6 psi more boost. +25 HP and 35 lb-ft torque
Civic MT high octane plus 7 psi more boost. +23 HP and 50 lb-ft torque
QUESTIONS & ANSWERS
Have a Question?
Be the first to ask a question about this.
Ask a Question