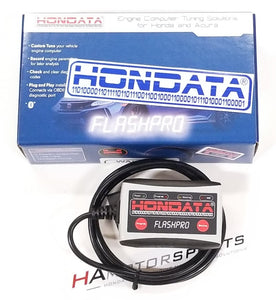 WARNING! THIS PRODUCT IS FOR OFF-ROAD MOTORSPORT/COMPETITION RACING USE ONLY, NEVER TO BE USED ON ANY POLLUTION CONTROLLED MOTOR VEHICLE.  TO PURCHASE, YOU MUST SET UP AN ACCOUNT ON OUR ONLINE STORE AND COMPLETE THE RACE-USE FORM:

Hondata FlashPro for 2013-2015 Honda Accord. The FlashPro allows full user tuning and datalogging of engine operation directly over the factory OBD2 port. The Hondata FlashPro connect from your laptop's USB port to your OBD2 diagnostic for quick and easy use. No physical modification to the factory ECU is needed.
Fits:
2013-2015 US Honda Accord 4 cylinder with manual transmission
2013-2015 US Honda Accord 4 cylinder with automatic transmission
Features:
Programmable ECU interface
Connects via OBDII diagnostic port
Simple USB 2.0 connection
Works with Laptop or Desktop computers
No ECU modification necessary
Live tuning
20 hours of onboard datalogging memory
FlashPro Manager Windows software
Read and clear diagnostic trouble codes / check engine lights
Customizable laptop display gauges
Bluetooth support for use with the Hondata Mobile App
Ignition, Fuel, and Idle speed table editing
VTEC window control
VCM disable options
REV and launch control limiters
Map/table tracing with lambda-air/fuel overlay
Expanded fuel and ignition tables for forced induction support
Hondata 4 bar map sensor support
Support for larger injectors (V6 models only at this time)
Custom injector dead time / latency editing
Individual cylinder fuel, ignition, and knock control settings
Starting calibrations / basemaps included for common engine setups including forced induction basemaps
What do I need to run the FlashPro Manager software?
Laptop or Desktop computer running 32 bit or 64 bit Windows XP, Vista, 7 or 8
USB 2.0 port
Internet access when connecting for the first time to register the system
A brief introduction to the Hondata FlashPro - a new generation of tuning tool and software for modern performance Hondas and Acuras: This video covers the installation the FlashPro Manager software, the USB drivers, software registration and upload of a calibration: One of the latest features added to FlashPro, live tuning gives you the ability to tune your Honda or Acura on the fly without switching off the engine. Live tuning simplifies part throttle tuning and significantly reduces the time and cost of tuning your car. A look at the extensive datalogging capabilities of the Hondata FlashPro. You can view all engine sensor information in real time and record up to 20 hours worth engine data displayed on your own laptop based customized instrument panel. We show how you can use datalogs from the built in wideband to help tune your air fuel ratios. View in HD and full screen to view the screen shots.
QUESTIONS & ANSWERS
Have a Question?
Be the first to ask a question about this.
Ask a Question