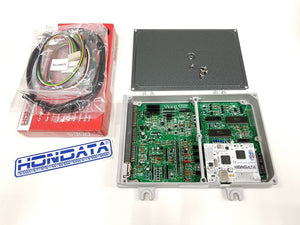 WARNING! THIS PRODUCT IS FOR OFF-ROAD MOTORSPORT/COMPETITION RACING USE ONLY, NEVER TO BE USED ON ANY POLLUTION CONTROLLED MOTOR VEHICLE.  TO PURCHASE, YOU MUST SET UP AN ACCOUNT ON OUR ONLINE STORE AND COMPLETE THE RACE-USE FORM:

After relentless research and testing, our Hondata S300 V3 / OBD1 AUTO ECU Package is here! This is the tuning solution you've been waiting for if you have an automatic transmission Honda or Acura with a B, F, or H series engine and are tired of being told you don't have a tuning option. IMPORTANT - This ECU MUST be used with a separate automatic transmission control unit (TCU/TCM). This ECU is designed to allow full communication between the S300 / OBD1 AUTO ECU and the TCU, resulting in a great solution for those wanting to run a tunable ECU in their automatic transmission vehicle. Will NOT work on vehicles with a D series auto transmission. Only compatible with B,F,H series auto transmissions. You must use a separate transmission control unit that is compatible with your specific transmission. This ECU is developed to be used with the Hondata Smanager/S300 software for OBD1 Honda / Acura applications.
ECU Casing Option: We have two ECU case options for you to choose from
Standard Case: This is the standard bead-blasted casing. This is a clean, like-new finish to the standard ECU casing. (see photos)
Powder Coated Case: This is the new option to have the casing powder coated in our hammertone grey just like the ECU lids. (see photos)
ECU Covers Option: We have two ECU cover/lids options for you to choose from:
Standard Covers: This is the standard powder coated grey top and bottom covers.
Clear Covers:  This is the upgraded clear top and bottom covers.  With this option, we will ship your ECU with the clear lids installed instead of the standard powder coated covers.
On OBD1 vehicles that have a separate TCU from the factory, this ECU can be plugged right in:
90-93 Honda Accord with automatic transmission
90-93 Acura Integra with automatic transmission
94-95 Acura Integra with automatic transmission
92-95 Honda Prelude with automatic transmission
On vehicles that came from the factory with an ECU that controls both engine and transmission, a conversion harness and separate TCU are required:
Included in this package:
HA Motorsports fully reconditioned OBD1 VTEC spec AUTOMATIC transmission compatible ECU
New serialized Hondata S300 Version 3 System
Hondata Smanager software (now downloadable Click here to download the software free)
6 foot USB cable for connecting to your lapatop

Pair of Hondata stickers
ECU package is fully tested on our state of the art bench tester to guarantee trouble free operation
Many engine basemaps to choose from included free with the smanager software to get you up and running.
See our Hondata S300 custom basemaps for more advanced engine setups.
What else do I need to use this ECU?
Laptop computer running Windows XP, Vista, 7, 8, or Windows 10 (laptop must have atleast 1 available USB port).
Internet connection to register the system.
Why choose an HA Motorsports ECU?
All HA Motorsports ECU's are produced completely in-house. This allows us to have complete control over the entire production process to make sure you will receive nothing but the best.
All HA Motorsports ECU circuit boards are socketed and modified right here in our facility using our quality components, then thoroughly tested on our state-of-the-art testing equipment to ensure complete quality control.
All HA Motorsports ECU's receive a full set of new capacitors installed to ensure long term reliability.
ECU casings are completely restored to like new condition using our glass bead blasting process.
Both upper and lower ECU lids receive a high-strength powder coat treatment for a unique, long lasting finish that will protect against rust and corrosion, and then are finished off with a new set of stainless steel screws.
All HA Motorsports ECU's, products, and services include a One Full-Year VIP Warranty.
Full product support is available after purchase. Unlike other companies that only want to "make the sale", we stand behind our products. Full product and tech support is available if needed so that you can get the most from your purchase.
**HA Motorsports does not sell Hondata items outside of the United States**
- If you are an international customer and would like to order Hondata products, please see the Hondata dealer list to locate an international dealer.
 
BLUETOOTH CONNECTIVITY This ECU package includes Bluetooth. Bluetooth connectivity allows wireless datalogging and tuning from a Bluetooth connected laptop computer, or datalog and display engine information directly on your iOS or Android smartphone or tablet with the Hondata Mobile App