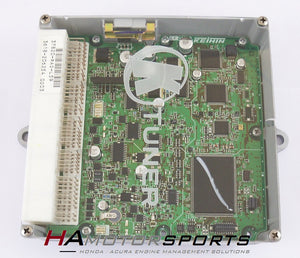 WARNING! THIS PRODUCT IS FOR OFF-ROAD MOTORSPORT/COMPETITION RACING USE ONLY, NEVER TO BE USED ON ANY POLLUTION CONTROLLED MOTOR VEHICLE.  TO PURCHASE, YOU MUST SET UP AN ACCOUNT ON OUR ONLINE STORE AND COMPLETE THE RACE-USE FORM:

HA Motorsports specially prepared ECU for use in the 06-07 Accord 4 cylinder with either the KTuner Reflash or KTuner End User system. This ECU is designed to plug directly into the 2006-2007 Accord without any wiring changes needed. Works flawlessly with the 06-07 Accord drive-by-wire system and retains all factory vehicle functions. Available for automatic transmission or manual transmission vehicles. Please select your transmission from the drop-down menu. Note that this ECU will not run your vehicle unless it has had the KTuner reflash completed or the KTuner End user system installed.
Features:
Fits plug-n-play into 06-07 Accord with 4 cylinder engines

No core is required so you can keep your stock ECU

Available for automatic or manual transmission vehicles

ECU is fully reconditioned and inspected.

ECU is ready for the KTuner end user system or KTuner reflash

FREE clear ECU lid to show off your Ktuner setup
Why choose an HA Motorsports ECU?
All HA Motorsports ECU's are produced completely in-house. This allows us to have complete control over the entire production process to make sure you will receive nothing but the best.
All HA Motorsports ECU circuit boards are socketed and modified right here in our facility using our quality components, then thoroughly tested on our state-of-the-art testing equipment to ensure complete quality control.
ECU casings are completely restored to like new condition using our glass bead blasting process.
All HA Motorsports ECU's, products, and services include a One Full-Year VIP Warranty.
Full product support is available after purchase. Unlike other companies that only want to "make the sale", we stand behind our products. Full product and tech support is available if needed so that you can get the most from your purchase.