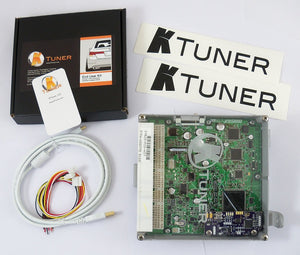 WARNING! THIS PRODUCT IS FOR OFF-ROAD MOTORSPORT/COMPETITION RACING USE ONLY, NEVER TO BE USED ON ANY POLLUTION CONTROLLED MOTOR VEHICLE.  TO PURCHASE, YOU MUST SET UP AN ACCOUNT ON OUR ONLINE STORE AND COMPLETE THE RACE-USE FORM:

HA Motorsports 03-06 Honda Element ECU with pre-installed KTuner End User Board system. This ECU package will allow you to easily tune your Honda Element engine to suit your engine modifications. Simply unplug and unbolt your stock ECU, then plug this ECU in and bolt back in place. Offers factory fitment and reliability, but with the ability to tune using the KTuner software.
Fits:
03-06 Honda Element with manual transmission.
05-06 Honda Element with automatic transmission.
** Will NOT work with 03-04 Honda Element with automatic transmission.
Includes:
KTuner End User System. (fully installed and tested in ECU)
USB cable for connecting the ECU to your laptop.
KTuner software for operating/tuning the ECU. Please download the software here.
What else do I need to use this ECU?
Laptop computer running Windows XP or newer Windows operating system.
Internet connection when connecting to your ECU for the first time to register your system and setup a KTuner account (free). To see what is involved in setting up your KTuner account, see the KTuner getting started guide here.
Bluetooth option:
The KTuner Rev1 End-User board accepts the KTuner Bluetooth Add-On Module.

Hi I have the 04 element with at trans. Why isn't this compatible? Is there a way to make it compatible,like use an 05 ecu? Thanks

The 03-04 Element automatic transmission is a 4 speed auto, while the 05-06 is a 5 speed auto.  The 05 ECU cannot control the 4 speed auto transmission, so unfortunately will not work unless you swap out your transmission to an 05 model 5 speed auto.