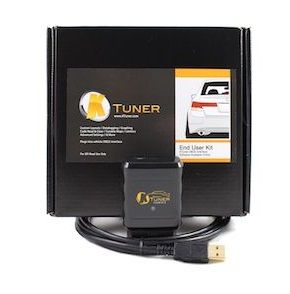 WARNING! THIS PRODUCT IS FOR OFF-ROAD MOTORSPORT/COMPETITION RACING USE ONLY, NEVER TO BE USED ON ANY POLLUTION CONTROLLED MOTOR VEHICLE.  TO PURCHASE, YOU MUST SET UP AN ACCOUNT ON OUR ONLINE STORE AND COMPLETE THE RACE-USE FORM:

KTuner Flash-based system for 2016+ Civic 2.0. The KTuner Flash system allows you to reprogram/reflash your stock ECU directly over your OBD2 diagnostic port. No need to remove your ECU, etc. Simply plug the KTuner Flash system into your OBD2 port under your dash and reflash or tune your car using the KTuner software and your laptop. Using the KTuner Flash system, you can retain all of your factory drivability, emissions, and reliability, while still being able to tune your engine for modifications (ie: intake, exhaust, cam upgrades, etc). The result will be a much better running engine with increased power!
What is included with the KTuner Flash system?
KTuner hardware (part that plugs into your OBD2 port)
USB cable (plugs into your laptop on one end, and into the KTuner hardware on the other end)
Pair of KTuner window decals
KTuner software (download for free here: http://ktuner.com/downloads/)
What does the KTuner software look like?
The KTuner software has a beautiful, customizable interface that allows you to view and edit your tuning parameters, fuel tables, and so much more. You can check out an overview of the software for free here: http://ktuner.com/ktuner-software/
How do I get the KTuner software?
To use the KTuner Flash system, you will need to download the KTuner software onto your laptop. A Windows laptop is required for use. You can view the laptop requirements, as well as download the software for free here: http://ktuner.com/downloads/ Part numbers for usable ECUs include:
North America 2016+ Civic 2.0 Manual Transmission:
37820-5BA-A01 through A15
North America 2016+ Civic 2.0 CVT Transmission:
37820-5BA-A61 through A65
37820-5BA-L61 through L65
37820-5BA-A71 through A75
37820-5BA-L71 through L75
37820-5BA-A71 through A75
37820-5BA-A81 through A85
37820-5BA-A91 through A95
International 2016+ Civic 2.0:
37820-5BA-C11 through C14
37820-5BA-C21 through C24
37820-5BA-C31 through C34
37820-5BA-C51 through C54
37820-5BA-C71 through C74
37820-5BA-C81 through C84
37820-5BA-K01 through K04
37820-5BA-K51 through K54
KTuner is currently offering the factory/stock calibration, and one research calibration that is included within the software, but with more to come in the future through software updates. The factory/stock calibration can be used as a starting point to begin tuning from the factory settings. The research calibration (Tune 1) can be ran with 87 octane fuel, but running 91+ will give the best results.
Tune 1:
Improved throttle response
VTEC lowered to 5600 rpm, resulting in broad mid-range power and top-end performance.
Supports up to intake and exhaust upgrades. Improperly sized intakes or higher flowing exhausts may throw off fueling and should be properly tuned.
Flash Back To Stock At Any Time
The KTuner software with this Flash System allows you to flash your ECU back to stock at any time.

does it work with 2.0 engine with no turbo

Yes, just be sure that your ECU part number is listed on the page to make sure it is supported.