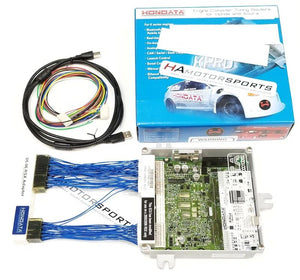 WARNING! THIS PRODUCT IS FOR OFF-ROAD MOTORSPORT/COMPETITION RACING USE ONLY, NEVER TO BE USED ON ANY POLLUTION CONTROLLED MOTOR VEHICLE.  TO PURCHASE, YOU MUST SET UP AN ACCOUNT ON OUR ONLINE STORE AND COMPLETE THE RACE-USE FORM:

Available now through us at HA Motorsports is our 05-06 RSX Base model Hondata K-Pro ECU Package. This package consists of a fully reconditioned 02-04 RSX base model "PND" ECU that is specially modified by Hondata to work with the 05-06 RSX electronics, along with a Hondata ECU jumper harness. You will not find a more complete K-pro ECU package for the 05-06 RSX than this package!
Fits:
2005-2006 Acura RSX Base model with 5-speed manual transmission. Will NOT work with automatic transmission models. This ECU package is NOT for use with engine swaps into other chassis (ie: EG/DC chassis, etc.).
Includes:
Fully reconditioned, Acura 02-04 RSX 5-speed, base model "PND" ECU
Brand new, serialized, Hondata K Pro-4 system.
Kmanager software for use with ECU package. Download software for free here: http://www.hondata.com/kmanager.html
KPro system is fully installed into the ECU and tested.
Specially modified ECU internal circuitry to allow the 02-04 ECU to work with the 05-06 RSX electrical system.
Hondata ECU Jumper harness (to allow the 02-04 ECU to plug into your 05-06 RSX harness).
USB cable for connecting the ECU to your laptop for tuning.
Hondata accessory harness for connecting optional systems (ex: nitrous control output, boost control, etc.)
Pair of Hondata decals.
Notes:
Requires use of an 02-04 RSX Primary oxygen sensor (not included). The 05-06 O2 sensor cannot be used.
OBD2 functions will not work and must be left disabled within the software. (will not operate/retrieve diagnostic data with standard obd2 scan tool).
The speed sensor spins much faster on the 05-06 transmission than on the 02-04. This ECU is specially modified to recalculate the speed sensor signal, however above 65 mph may cancel cruise control functions intermittently.
Why choose an HA Motorsports ECU?
All HA Motorsports ECU's are produced completely in-house. This allows us to have complete control over the entire production process to make sure you will receive nothing but the best.
All HA Motorsports ECU circuit boards are socketed and modified using quality components, then thoroughly tested on our state-of-the-art testing equipment to ensure complete quality control.
ECU casing is completely restored to like new condition using our glass bead blasting process.
The K series ECU lid is replaced with a clear plexiglass lid with etched Hondata logo, then finished off with a new set of stainless steel screws.
All HA Motorsports ECU's, products, and services are guaranteed for 90 days from purchase to allow our customers plenty of time to install and use their item(s) to make sure they perform correctly.
Full product support is available after purchase. Unlike other companies that only want to "make the sale", we stand behind our products. Full product and tech support is available if needed so that you can get the most from your purchase.
BLUETOOTH CONNECTIVITY This ECU package includes Bluetooth. Bluetooth connectivity allows wireless datalogging and tuning from a Bluetooth connected laptop computer, or datalog and display engine information directly on your iOS or Android smartphone or tablet with the Hondata Mobile App

**HA Motorsports does not sell Hondata items outside of the United States**
- If you are an international customer and would like to order Hondata products, please see the Hondata dealer list to locate an international dealer.
QUESTIONS & ANSWERS
Have a Question?
Be the first to ask a question about this.
Ask a Question