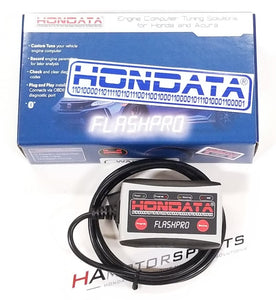 WARNING! THIS PRODUCT IS FOR OFF-ROAD MOTORSPORT/COMPETITION RACING USE ONLY, NEVER TO BE USED ON ANY POLLUTION CONTROLLED MOTOR VEHICLE.  TO PURCHASE, YOU MUST SET UP AN ACCOUNT ON OUR ONLINE STORE AND COMPLETE THE RACE-USE FORM:

The Hondata Flashpro for 2012 up 1.8 liter Honda Civic models allows full user tuning and datalogging of engine operation. The Flashpro system connects from your laptop's USB port to your civic's factory OBD2 diagnostic port to provide real-time programming and tuning of your engine.
Fits:
2012-2015 US Honda Civic 1.8 with manual or automatic transmission.
Features:
Ignition, fuel, idle speed table editing

VTEC window editing

MAP sensor based tuning

rev limiter and launch control limiters

Real-time map/table tracing and lambda overlay for easy tuning

expanded fuel tables, ignition tables, and knock tables for forced induction tuning

Hondata 4 bar map sensor support for up to 43 psi boost tuning

aftermarket/larger injector support

individual cylinder fuel and ignition trim

Many starting calibrations/basemaps included for free within the software to get you up and running
What do I need to use the Hondata FlashPro?
Laptop running 32 or 64 bit Windows XP, Vista, 7, 8, or 9

USB 2.0 port on your laptop

Internet access to your laptop to register the FlashPro for first time use.
QUESTIONS & ANSWERS
Have a Question?
Be the first to ask a question about this.
Ask a Question