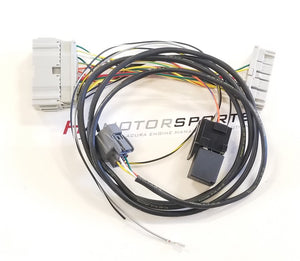 This harness is for installing a K series engine swap with a KPro equipped ECU into the 2001-2005 Honda Civic chassis.  The harness works with an 02-04 RSX or equivalent engine harness and Hondata Kpro equipped ECU only.
Designed and built right here in our facility in the USA!  We build these harnesses by hand using cross-linked TXL wire, braided sleeving, Raychem protective sleeving, and all OEM connectors and pins.  You will not find a higher quality harness.

Fits:
01-05 Civic DX/EX/LX with K series engine swap using 02-04 RSX style engine harness
If I want to do k swap on my 01-05 Honda Civic ex will I need this? And if so which kpro ecu do I need to go with this? Will I need to purchase the kpro for the 01-05 d17A?

You will use this conversion harness, along with an 02-04 RSX style engine harness.  Use the Kpro/PND ECU package if using 5-speed transmission, or the Kpro/PRB ECU package if using 6-speed transmission.