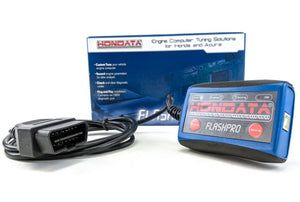 The FlashPro allows datalogging and limited tuning for your 2006-2011 US Civic Si. It includes Windows based software called FlashProManager. The FlashPro connects from your laptop's USB port to your vehicles diagnostic port.
EPA/CARB Status

California emissions compliant (CARB EO D-742-1), which allows this product to be used on street vehicles within the USA.
Important Note
This FlashPro allows limited tuning or preset calibrations.  For competition vehicles we recommend the FP-SI-US FlashPro as that FlashPro allows full tuning.
Features
Programmable ECU interface.
Connects via OBDII diagnostic port.
USB 2.0 connection
Works with Laptop or Desktop
No ECU modification necessary.
20 hours on board datalogging memory.
FlashProManager Windows software.
Check and clear diagnostic codes.
Dual calibration storage - upload from one of two calibrations stored in the FlashPro
The Hondata FlashPro is a hardware and software combination that connects from your laptop's USB port to your Civic Si's diagnostic port.

The FlashPro has the best datalogging capability and support in the industry. There is simply no better way to learn how your engine runs and responds than by connecting a FlashPro and datalogging. See for yourself.
The Hondata FlashPro is a product that delivers all the features you need, now, fully working, that will grow with you as you upgrade your engine. With the recently added live tuning capabilities, your tuner can now tune your car faster and better.
The FlashPro is designed, manufactured and assembled in the USA. As a result of local assembly, extensive testing before shipping and our stringent quality control, the FlashPro is incredibly reliable.
Supported ECU's:
RRB-A01 through RRB-A14

RRB-X11 through RRB-X12

RRB-K01 through RRD-K02

RRD-M11 through RRD-M22

RRD-P11 through RRD-P12

RRD-P21
What is a CARB FlashPro?

A CARB FlashPro is a FlashPro which only allows uploads from calibrations which are determined to not alter the any emissions related parameters in the ECU.
What does CARB stand for?

Not carburetor.  'CARB' is the common term for the California Air Resources Board, who are responsible for determining if calibrations could affect emissions.

Why should I use the CARB FlashPro?

Within the USA you must use the CARB FlashPro for any emissions controlled vehicle.

But I don't live in California / my state does not do emissions tests.

It does not matter - the concept of '49 state legal' is not longer valid.  Under the federal Clean Air Act administered by the EPA it is not legal to change any emissions equipment (including the ECU) on any emissions controlled vehicle.  There is no mechanism to prove to the EPA that an ECU modification does not affect emissions, but the EPA will accept the California Air Resources Board approval. Hence California legal modifications are also federally legal.
QUESTIONS & ANSWERS
Have a Question?
Be the first to ask a question about this.
Ask a Question