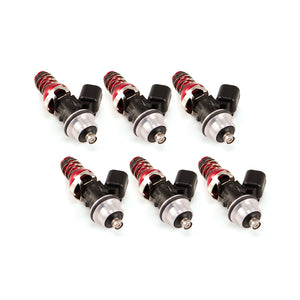 The ID1050x is the evolution of the ID1000, and the latest addition to the X-Series. The ID1050x injectors supercede and replace the original ID1000 injectors. It is the most recent offering from the partnership of Injector Dynamics and Bosch Motorsport, and is the result of lessons learned during development of the ID1300x, and ID1700x. Like the ID1300x and ID1700x, the ID1050x is not a modified production component. It is a built to spec motorsport injector, offering optimization of critical operating parameters important to you, the motorsport tuner. Compared to the original ID1000, the ID1050x offers numerous improvements, and is sure to become the new reference. Corrosion resistant internals make it compatible with all known fuels, capable of extended service life with corrosive fuels. Improved internal flow path increases output by 5% without sacrificing low flow performance. Stronger magnetic circuit offers stable operation up to 10 bar. Replaceable inlet filter extends service life.
* Sold in a set of 6 flow-rate and dynamically matched injectors *
Basic Specifications:
Nominal Flow Rate – 1065cc/min @ 3.0 Bar (43.5 psi)
Using Gasoline at 52 Degrees C (125 Degrees F)
Maximum Differential Fuel Pressure – 10.0 Bar (145.0 psi)
Fuel Compatibility – Compatible With All Known Fuels
Electrical Connector Style – USCAR
Fits:
Honda/Acura V6 applications
The electrical connector on the ID1050x injectors are "USCAR" style connectors. We have three options for connecting these injectors to your engine harness:
"Clips and Pins" option - the injectors will be shipped with a set of 6 USCAR style connectors with pins. You will need to cut the factory injector electrical connectors off of your engine harness, then crimp the new pins onto your engine harness wires and insert them into the included USCAR connectors and plug them into your new injectors. Use this option if you are comfortable crimping new pins and splicing into your engine harness and you want a permanent connection.
"OBD2 Pnp Adapters" option - the injectors will be shipped with a set of 6 plug-and-play adapters that will allow you to plug in your factory OBD2 style injector connectors to the adapters, then the adapters will plug directly into the new injectors. Use this option if you have an OBD2 style engine harness and you do NOT want to cut or splice into your engine harness.
QUESTIONS & ANSWERS
Have a Question?
Be the first to ask a question about this.
Ask a Question