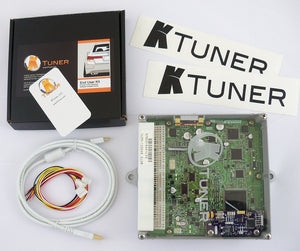 WARNING! THIS PRODUCT IS FOR OFF-ROAD MOTORSPORT/COMPETITION RACING USE ONLY, NEVER TO BE USED ON ANY POLLUTION CONTROLLED MOTOR VEHICLE.  TO PURCHASE, YOU MUST SET UP AN ACCOUNT ON OUR ONLINE STORE AND COMPLETE THE RACE-USE FORM:

KTuner complete ECU package for the 2003-2005 Accord 4 cylinder chassis. This ECU package includes our KTuner 03-05 Accord ECU with a fully installed and tested complete KTuner End User Board System. You will not find a better solution for tuning your 03-05 4 cylinder Accord. Please select if you have a manual transmission or automatic transmission from the drop-down menu.
Includes:
* HA Motorsports KTuner Ready 03-05 Accord RAD ECU
* KTuner End User System. (fully installed and tested in ECU)
* USB cable for connecting the ECU to your laptop.
* KTuner software for operating/tuning the ECU. Please download the software here.
What else do I need to use this ECU?
* Laptop computer running Windows XP or newer Windows operating system
* Internet connection when connecting to your ECU for the first time to register your system and setup a KTuner account (free). To see what is involved in setting up your KTuner account, see the KTuner getting started guide here.
Bluetooth option:
The KTuner Rev1 End-User board accepts the KTuner Bluetooth Add-On Module.

What features does the KTuner software for 03-05 Accords have, and what can I adjust?
* Real Time logging
* Ignition/Fuel tuning
* VTC tuning
* Knock tuning
* Adjustable rev limiter settings
* Adjustable 2-step launch control
* VTEC engagement control
* Closed loop/open loop control
* Disable engine sensors and OBD2 monitors
* Disable ECU immobilizer
* Many more under development! Many features are being developed for the KTuner software. For an up-to-date list of all features, see the KTuner page here: http://ktuner.com/accord0305/
Are instructions provided on what wire changes are needed to be made? With good detail of the wiring?

No wiring changes are needed, it plugs right in on this application.

Is this a direct plug and play or is CAN bud wiring needed in order for it to function with the 2003 model

No wiring changes are needed, it will plug right in.

Will this be compatible with 03 accords that uses drive by cable rather than the drive by wire set up?

Yes, this ECU package is for use with cable driven throttle body on 03-05 Accords.  Thanks,

will this system work for the 04 3.0L v6 model?

This ECU package is for the 4 cylinder model only.

Is this ecu available for 06-07 accord?

Yes, this is available here: KTuner Revision 1 / 06-07 Accord RAD ECU Package

Hello, I have an 2003 Honda Accord, I plan on swapping in an JDM K24A2 RBB, if I use my oem engine harness will this ECU work? And will it operate the VTEC on both Cams? Looking for the best option as this will be for turbo application as well

Yes, this is the correct ECU package to use.  It will operate the K24A2 engine properly, and yes you will want to re-use your 03 Accord engine wire harness.