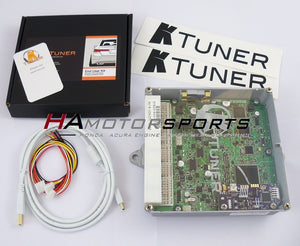 WARNING! THIS PRODUCT IS FOR OFF-ROAD MOTORSPORT/COMPETITION RACING USE ONLY, NEVER TO BE USED ON ANY POLLUTION CONTROLLED MOTOR VEHICLE.  TO PURCHASE, YOU MUST SET UP AN ACCOUNT ON OUR ONLINE STORE AND COMPLETE THE RACE-USE FORM:

Complete KTuner tuning system for the 2006-2007 Accord 4 cylinder. This ECU package includes our KTuner ready 06-07 Accord ECU with a fully installed and tested KTuner End User system. You will not find a better solution for tuning your 06-07 Accord 4 cylinder. Please select if you have an automatic or manual transmission from the drop-down menu.
Includes:
* HA Motorsports KTuner Ready 06-07 Accord RAD ECU
* KTuner End User System. (fully installed and tested in ECU)
* USB cable for connecting the ECU to your laptop.
* KTuner software for operating/tuning the ECU. Please download the software here.
What else do I need to use this ECU?
* Laptop computer running Windows XP or newer Windows operating system
* Internet connection when connecting to your ECU for the first time to register your system and setup a KTuner account (free). To see what is involved in setting up your KTuner account, see the KTuner getting started guide here.
Bluetooth option:
The KTuner Rev1 End-User board accepts the KTuner Bluetooth Add-On Module.

What features does this ECU provide, and what can I control/program?
* Real-time datalogging
* Real-time tuning
* ignition and fuel tables tuning
* VTC tuning
* Knock Tuning
* Adjustable rev-limiter
* adjustable 2-step/ launch control
* VTEC window control
* closed loop control
* disable sensors and OBD2 monitors
* disable immobilizer