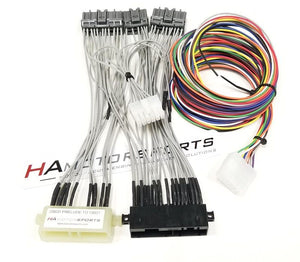 1988-1991 Honda Prelude OBD0 to OBD1 ECU jumper harness. This ECU jumper harness will convert the OBD0 Prelude ECU plugs to OBD1 style so that you can use an OBD1 ECU. Please note that some 90-91 Prelude's are OBD1 from the factory and do NOT need this harness. This harness is only needed if you have an OBD0 Prelude. Uses all new OEM connectors for OE quality fitment. All HA Motorsports ECU jumper harnesses are constructed using cross-linked automotive TXL wire which exceeds OEM specifications and is extremely durable. Allows a straight-forward, simple conversion from OBD0 to OBD1.  Designed and built right here at our facility in the USA!

This harness is to be used for installing an OBD1 Manual transmission ECU into the following vehicles:
88-91 Honda Prelude OBD0 with manual transmission
You will also need an OBD1 or OBD2 distributor that fits onto your engine. The OBD0 distributor will not work with an OBD1 ECU. This OBD1 conversion harness includes a sub-harness for wiring in the following components:
VTEC Solenoid
VTEC Oil Pressure Switch
Knock Sensor
4 wire O2 Sensor
Intake Air Bypass Solenoid

All HA Motorsports ECU's, products, and services include a One Full-Year VIP Warranty
OBD0 Prelude to OBD1 ECU Jumper Harness Installation Instructions
QUESTIONS & ANSWERS
Have a Question?
Be the first to ask a question about this.
Ask a Question