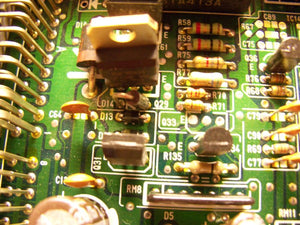 For those wishing to use the electronic boost control features included with Neptune RTP or Hondata S300, we offer trouble free installation of our PWM Boost Control Components which allow this system to operate. If you'd like this performed at the same time when we socket your ECU, simply add this to your cart and we will perform the PWM Boost installation along with your other services. Price includes required PWM boost components for the installation. After checkout, simply ship your ECU to us and we'll take care of the rest. Questions? Please don't hesitate to contact us. Available for USDM OBD1 Civic/Integra ECU's only.
Replace Capacitors option:
OBD1 Honda/Acura ECU's are now 20+ years old. Over time, the original capacitors may begin leaking and fail, causing damage to the ECU board and ECU failure. If you'd like to have all of your ECU's capacitors replaced while it's here (recommended), simply select this option and we will replace all of your ECU's capacitors with new capacitors!
How the order process works:
1. Add this service/item to your online shopping cart.
2. Select the RETURN shipping method of your choice from the options on the page.
3. Submit your order. You will receive an order confirmation email to your inbox momentarily.
4. Print out this email and include it in the package with your ECU.
5. Pack securely, then ship to us. Click here for our shipping address.
6. Turn around time is 1-2 days from when we receive your ECU. We will email tracking to you when it is on its way.
One Full-Year VIP Warranty on all ECU work.
I have a 2016 Honda Civic 1.5 turbo along with the Hondata flash pro, by getting the boost service done to my Ecu that would allow me to use the boost feature on Hondata instead of wiring up an electric boost control correct?

This service is for OBD1 ECU's.  The 2016 Civic 1.5T can control the boost levels using the FlashPro without any further mods or components.