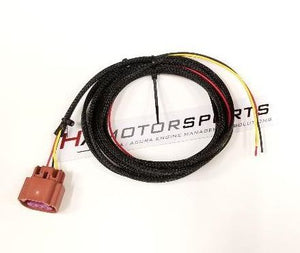 HA Motorsports custom assembled plug-n-play wire harness for use with the HA Motorsports E85 ethanol content sensor. This harness has a built in 2.4k Ohm resistor that is needed for use with the Hondata S300v3, brand new connectors, and 6 feet of wire for easy connection to your S300V3 analog input connector. The harness features color-coded automotive TXL wire that exceeds OEM specifications and is resistant to moisture, grease, oil, gasoline, and most acids and solvents making it very durable for engine compartments.
Connect 'VCC' (yellow wire) to switched +12volts
Connect 'Gnd' (black wire) to Analog input harness ground (black wire on Analog connector)
Connect 'Out' (red wire) to Analog input harness AN0 (red wire on Analog connector) For more information on the Analog input connectors on the S300, see the S300 help guide here: http://www.hondata.com/help/smanager/analog_wiring.htm.

I'm contemplating making my integra e85 compatible. I'm not with my computer right now so I was wondering. If I implement this connector and sensor on my s300 can it be used to switch over to secondary tables? Or will is it something I'd have to look at then flash a different tune?

This is intended to be used in the S300/smanager software for flex-fuel support using the flex-fuel tables, not the secondary tables, as shown here: https://www.hamotorsports.com/pages/hondata-s300-ethanol-e85-setup-information