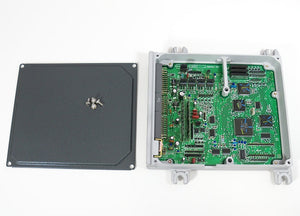 WARNING! THIS PRODUCT IS FOR OFF-ROAD MOTORSPORT/COMPETITION RACING USE ONLY, NEVER TO BE USED ON ANY POLLUTION CONTROLLED MOTOR VEHICLE.  TO PURCHASE, YOU MUST SET UP AN ACCOUNT ON OUR ONLINE STORE AND COMPLETE THE RACE-USE FORM:

HA Motorsports specially prepared Hondata S300J Ready P08/P70 spec OBD1 JDM ECU. This is the JDM style (square case) OBD1 VTEC ECU that is compatible with the S300J system. This ECU will NOT fit the standard S300 system, only the S300J. This ECU is fully socketed to accept the S300J. Simply unscrew the top cover, insert your S300J onto the header pins/socket, then screw the top cover back on. This is the ECU ONLY. The S300J is NOT included. This ECU will not work without the S300J. If you have a JDM ECU that has an S300J already installed, and the ECU has failed, you can use this ECU to get up and going quickly. Simply insert your S300J onto the pre-installed header pins in this ECU, reinstall the top cover, and you are good to go with the new ECU!
Why choose an HA Motorsports ECU?
All HA Motorsports ECU's are produced completely in-house. This allows us to have complete control over the entire production process to make sure you will receive nothing but the best.
All HA Motorsports ECU circuit boards are socketed and modified right here in our facility using our quality components, then thoroughly tested on our state-of-the-art testing equipment to ensure complete quality control.
All HA Motorsports ECU's receive a full set of new capacitors installed to ensure long term reliability.
ECU casings are completely restored to like new condition using our glass bead blasting process.
Both upper and lower ECU lids receive a high-strength powder coat treatment for a unique, long lasting finish that will protect against rust and corrosion, and then are finished off with a new set of stainless steel screws.
All HA Motorsports ECU's, products, and services include a One Full-Year VIP Warranty.
Full product support is available after purchase. Unlike other companies that only want to "make the sale", we stand behind our products. Full product and tech support is available if needed so that you can get the most from your purchase.
I have B18c GSR engine with socketed Hondata S300j however my P72J ECU went bad. Just wondering if this socketed ECU P08 will work on my B18c GSR?

Yes, this ECU can be used in place of your JDM P72 ECU with S300J.  Be sure to disable the knock sensor if not already done on your calibration as the P08 doesn't have knock sensor circuitry.