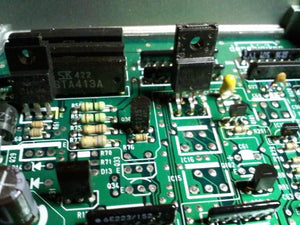 Our VTEC Conversion service is available for customers with OBD1 civic/integra style Non-VTEC ECU's who would like to have the VTEC circuitry added to their ECU. By adding the VTEC circuitry to the common P06,P75, etc ECU it will then function as a P28 style ECU with the appropriate ROM installed (ie: chip, s300, Demon board, etc). Please note that you MUST have a VTEC programmed chip, S300, Demon, etc. in the ECU in order for the VTEC to function. This service is simply adding the components needed to your ECU circuit board for the VTEC to function.
Replace Capacitors option: OBD1 Honda/Acura ECU's are now 20+ years old. Over time, the original capacitors may begin leaking and fail, causing damage to the ECU board and ECU failure. If you'd like to have all of your ECU's capacitors replaced while it's here (recommended), simply select this option and we will replace all of your ECU's capacitors with new capacitors!
How does the order process work?
1. Add the VTEC conversion service to your online shopping cart.
2. Choose from the available shipping options in your online shopping cart (this is for the RETURN shipping back to you once the work is completed).
3. Submit and pay for your order.
4. You will receive an order confirmation email. Please print and include with your shipment to us. Pack the ECU securely and ship to us. Click here for our shipping address
5. Take your package to any shipping store, post office, etc that you'd like and ship to us. You will pay them for the shipping to us.
6. Once we receive your ECU we will complete the VTEC conversion, re-test the ECU to ensure it works properly, then ship back to you. You will receive a confirmation email with tracking at this time.
7. Turn-around time is 1-2 business days from when we receive your ECU until it ships back out. Your overall wait time will depend on the shipping method you use to ship to us, as well as the return shipping method you choose at checkout.
One Full-Year VIP Warranty on all ECU work.
Have a question? Please don't hesitate to contact us.
QUESTIONS & ANSWERS
Have a Question?
Be the first to ask a question about this.
Ask a Question