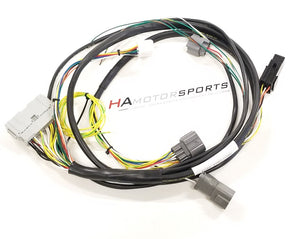 This harness is for installing a K series engine swap with a KPro equipped 02-04 ECU into the 92-95 Civic , 93-97 Del Sol, or 94-97 Integra chassis.  The harness works with an 02-04 RSX or equivalent engine harness and KPro equipped 02-04 ECU only.
Designed and built right here in our facility in the USA!  We build these harnesses by hand using cross-linked TXL wire, Raychem DR-25 protective sleeving, and all OEM connectors and pins.  You will not find a higher quality harness.

Fits:
92-95 Civic
93-97 Del Sol
94-01 Integra
Why does this harness only work with KPro ?

The pinouts at the ECU are for the 02-04 ECU's, as well as it isn't wired for a secondary 02 sensor nor DTC connector.