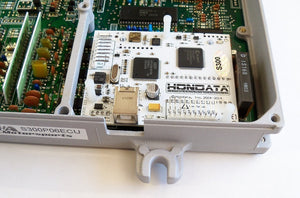 This service is for customers who would like us to install their
Hondata S300 system
into their stock OBD1 ECU. All labor is included in this service including final testing to ensure that your Hondata S300 ECU operates correctly upon shipment.
For our customers who are purchasing an S300 system from us, simply add this service to your shopping cart and let us know you are sending in your ECU for installation. We will hold your Hondata S300 system for you and wait for your ECU to arrive for installation. Turnaround time is 1-2 days from the time we receive your ECU. For turbocharged applications where you would like to use the boost control features of the S300, we offer our
PWM boost contol installation
for seamless integration with the Hondata S300 unit as well as the
Hondata Boost Control Solenoid
.
Professional socketing for use with the S300
Hondata S300 unit is fully installed into ECU
Includes ECU case modifications for USB access
ECU board is thoroughly cleaned and inspected
ECU is tested for proper operation before shipping
NOTE:
If your ECU has already been socketed for a standard 28 pin socket, we will need to remove the standard socket to install the S300 style pins. In doing so, the ECU board may be damaged. We HIGHLY suggest sending an ECU that has not been modified for our S300 installation service.
Replace Capacitors option:
OBD1 Honda/Acura ECU's are now 20+ years old. Over time, the original capacitors may begin leaking and fail, causing damage to the ECU board and ECU failure. If you'd like to have all of your ECU's capacitors replaced while it's here (recommended), simply select this option and we will replace all of your ECU's capacitors with new capacitors!
How the order process works:
1. Add this service/item to your online shopping cart.
2. Select the RETURN shipping method of your choice from the options on the page.
3. Submit your order. You will receive an order confirmation email to your inbox momentarily.
4. Print out this email and include it in the package with your ECU. (be sure to include your S300 system if you are not purchasing one from us with your order)
5. Pack securely, then ship to us.
Click here for our shipping address
.
6. Turn around time is 1-2 days from when we receive your ECU. We will email tracking to you when it is on its way.
One Full-Year
VIP Warranty
on all ECU work.
Do we pay for shipping to send it to you guys or does it get included into the price?

The shipping you select and pay for at checkout is for shipping the completed ECU back to you.  You will pay to ship your ECU to us wherever you go to ship it.

Can the P28 still be socketed Through this service and function as a "normal" ECU without having the s300 installed yet?

Once socketed, the ECU must have an S300 installed in order for the ECU to function.

Can u installed S300 on OBD2 ?

The S300 system is only compatible with OBD1 ECU's.

Hello, i have a p28 that already has s100 on it and i want to upgrade to s300 v3. How do I go about this? I would like to purchase it and have it all installed together.

The S100 uses a different style socketing than the S300, so you will need an S300 system plus our S300 installation service to change the socketing, cut the USB notch, etc.: S300 socketing / installation service