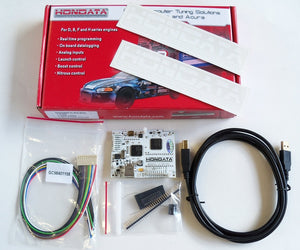 WARNING! THIS PRODUCT IS FOR OFF-ROAD MOTORSPORT/COMPETITION RACING USE ONLY, NEVER TO BE USED ON ANY POLLUTION CONTROLLED MOTOR VEHICLE.  TO PURCHASE, YOU MUST SET UP AN ACCOUNT ON OUR ONLINE STORE AND COMPLETE THE RACE-USE FORM:

S300 V3 Software and USB Drivers Download: smanager software download
"The Hondata S300 is an add-in module to the factory OBD1 Honda Engine Computer (ECU) which vastly expands the capabilities of the factory ECU. Forced induction, datalogging, real time updating of parameters, engine protection are but a few of the s300 features."

The new Hondata S300 Version 3 (white board) adds Bluetooth capabilities, ethanol sensor support, and the android and iOS mobile app which allows datalogging and engine operating parameter display directly on your mobile device wirelessly! We are proud to offer Hondata's top of the line tuning products like the Hondata S300 to our valued customers. The S300 is one of the most advanced OBD1 Honda / Acura tuning systems on the market. It offers superior tunability with forced induction support, datalogging, boost control capabilities, and so much more. Below is a brief summary from Hondata. If you have more questions on whether or not this system is right for you, please don't hesitate to contact us. Each Hondata S300 system sold by us at HA Motorsports has it's own unique serial number from Hondata. This not only verifies it's authenticity, but is extremely useful for recovering your Hondata unit in the event of theft.
* Sold as a complete system including USB cable, installation kit, and Hondata decals.
NOTE: We always recommend using the latest version of Smanager with the S300 System. You can download Smanager for free HERE
* Fits the following OBD1 USDM ECU's: P05,P06,PR4,P28,P30,P61,P72,P75
** HA Motorsports does not sell Hondata items outside of the United States **
- If you are an international customer and would like to order Hondata products, please see the Hondata dealer list to locate an international dealer.
New Features for the S300V3:
ethanol content sensor support for direct connection without an ethanol analyzer.
Bluetooth for datalogging/programming from Laptop or mobile device.
2-4 times faster datalogging over version 1 or 2 systems.
CAN support
Serial output for dashboards like the AiM MXL and Racepak IQ3
Main features:
Fits inside the ECU
Made in USA
Built-in Bluetooth compatability
Works with Hondata Mobile iOS and Android app
USB connection for speed and compatibility
SManager Windows based software for parameter & table editing,
calibration uploading and datalogging.
Real-time updating of ECU
Built in calibrations for common engine combinations
Built in datalogging to a laptop
On board datalogging memory (2 MB memory, 20-60 minutes datalogging)
Adjustment for different sized injectors, with overall fuel trim.
Configurable for any MAP sensor (to at 5 Bar and above)
TPS based table lookup for ITBs
Engine protection from over boost.
Expanded fuel and ignition tables, both in rpm and load, to 60 lbs boost and 11,000 rpm (these are not the upper limits)
Launch control with anti-lag
Full throttle shift
Three multi purpose outputs for nitrous control or similar Supports lambda tracing from a wideband o2 (PLX wideband recommended)
PWM output for boost control
Dual tables for high/low octane calibrations etc.
Two analog inputs for wideband, EGTs etc.
Many, many more!
NOTE: The s300 uses different connecting pins in the ECU from a standard chipped ECU, and also has a slot cut in the side for the USB connector, so the ECU must be modified for use with the s300. The s300 is made to fit in a full frame ECU case (US and most markets), so will not fit in a JDM ECU case. If you have a JDM square case ECU, you will need to use the Hondata S300J
USB Connection:
The s300 uses a high speed USB connection for both programming calibrations and datalogging. No more USB/serial connectors!
Real-time Update:
The s300 can be updated in real-time with the engine running without affecting the operation of the vehicle.

Datalogging:
The s300 has datalogging to the SManager software built in via the USB port. Using a laptop the various ECU sensors can be datalogged, viewed, graphed and saved for later analysis.

ECU Preparation:
It is strongly recommended that you have this professionally installed as this is more difficult to install than an s100 or s200 and if the ECU has been previously socketed you run an even higher risk of damaging the ECU (lifting tracks and or burning them). We offer Hondata S300 unit installation into customer provided ECU's. Please see our Hondata S300 installation service.
Is it possible for a base map to be installed before shipment?

The S300V3 system requires the end-user to agree to Hondata policies and register the system before a running basemap can be uploaded.  For this reason, we don't offer to load a basemap before shipping.  We do offer custom basemap files for the S300 separately if needed here: https://www.hamotorsports.com/products/hondata-s300-custom-programmed-basemap-file